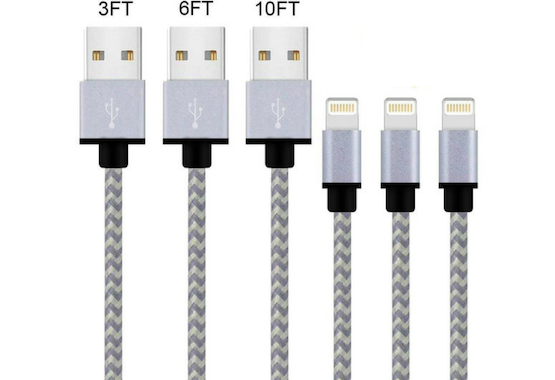 LONG LIGHTNING CABLES VARIETY PACK
HERCULES TUFF LONG LIGHTNING CABLES VARIETY PACKS are great, perfectly sized long cables for all your devices that charge with Apple Lightning Cables. Always 2.0A fast charge compatible! Strong nylon braided cord!
Our HERCULES TUFF LONG LIGHTNING CABLES come in 3 convenient sizes (3 feet, 6 feet, 10 feet), and are perfect for any USB charging station and really any other charging need.
-SILVER NYLON-
What people are saying about us...
This is soooooooooo AWESOME! I keep this on the counter in the kitchen. We have multiple family members that use it like a gas pump. They are not asking me anymore where the cords are to charge their iphones, they just plug in. I have two kids that have phones, and even if they are not being charged, I store them in the slots. I have NEVER pulled out another cord since I bought this.

All electronics now have a home. I placed a wireless charger on the last spot & the light on that charger let's me know when it's done from a distance. My family all know to place their iPads & phones there in the kitchen which has decreased this "Mom have you seen my....". Life is sweeter.

In order to keep our devices out of our various bedrooms at night, our family designated a 'charging station' in the kitchen. It was great until we realized we had a spaghetti bowl of cords. This Hercules Tuff charging station is perfect for what we need, as we have iPhones, iPads, Amazon Fires, and other tablets. The best part is the short throw cables to keep down the clutter and tangling at the station. Although, I would advise to do a solid count on the types of devices you will charge, as we had to order a couple extra sets of the short cables. Also, we have had to play with configuration of the dividers to accommodate devices with cases of varying sizes.

The reason I got this product was to have a central charger station without the family having to search for chargers constantly...the other reason we got it was a great idea by my wife...every night for at least an hour we all put our devices on the charger and have no device/screen time for a minimum of an hour. It has worked great and I highly recommend this product...the other plus is that it seems to charge our devices twice as fast as any other chargers we have owned. You will not be disappointed with this product!